#WeAreASJUSD News May/June 2023
What Makes Us Different ~ Our Signatures
Families in San Benito County have a choice about what schools they wish to send their children. We receive a number of Intradistrict requests from parents who use a variety of reasons for the request: employment, childcare, educational programming, etc. We continue to take time to talk about "Why ASJUSD?" We are a very different option than most other districts around us and, frankly, we are fine with that. We know that our secret sauce is related to our small size, but it is more than that. At our recent retreat, our administrative team spent some hours discussing this and wrote the following belief statements. It is only a draft at present, but it begins to lay out our rationale for why ASJUSD is a great choice for some families. Some of these statements are aspirational, i.e. not fully realized, but we are on the road!
We are NOT a large comprehensive high school or district. What are we then?
We are the only unified PK-12 collaborative learning community with a clear scope and sequence in academic and enrichment areas in San Benito county.


Our K-8 schools are multi-age communities valuing the important developmental stages of children who learn together and from each other. There is value in not early accelerating our youth into their teenage years.


Ours is a small sized learning community that is inclusive, responsive and agile to meet the needs of all students, giving them voice and agency to partner with us in their education.


We partner with our families and our community as we celebrate our diverse and rich culture, language, and customs.


We seek to equip students to be multilingual, using languages of literacy and numeracy to make sense of the world and to recognize their responsibility to give back through service learning.


We believe it is important that students have the joy of learning, through exploration and experiential learning.
We invite you to join us on our journey toward getting better. Excellence is our goal and we intend to be transparent about the progress we are making toward being a District of Distinction.
Hawk Academy at Anzar
In my past life, I worked on partnerships with community colleges to provide high school students on-site opportunities to take general education college courses that would be transferable to higher education. In Illinois, we called it Core15 and we had a package of 15 credit hours of community college available to take on campus. I know many here look to enroll at GECA on Gavilan College's campus. Not everyone can travel to GECA, so we wanted an on-campus solution at Anzar.
I'm very excited to announce that we have signed an MOU (memorandum of understanding) with Gavilan College to start HAWK ACADEMY next fall on Anzar's campus. We will first be offering two college courses taught by Gavilan professors: Intro to Personal Finance and Intro to Psychology. They will be free. We hope to offer more in the future so that students can leave with a pocketful of college credit that will transfer to the U of C's, the CSU's, or other colleges and universities.
Town Hall Meeting with David Jakes on May 18, 2023
About 60 parents, community members, students, teachers, staff, and administrators gathered on May 18, 2023 in Anzar's Library as we welcomed back David Jakes to our district. David was here in early January to visit sites, work with various groups and hold his first town hall meeting. If you were in attendance as one of the 90 individuals who participated, you'll remember his provocative look at the future and our engagement with three questions; 1) What does it mean to be an educated person? 2) What will it take to be a destination district? 3) What do you want to take forward and what do you want to leave behind? David took all the data from the week and issued a report that included some important Design Drivers or themes which he shared back with us and the architectural team on May 18. The list of Design Drivers included the following big ideas:
Create an Irresistible Invitation
The redesign of San Juan School should aim to strengthen community connections and present the school as a welcoming and inspirational center for learning in San Juan Bautista. Create aesthetically pleasing spaces, that are playful, and that are spaces that students enjoy being in. Create spaces that are welcoming and engender a sense of belonging.
Development of Community
A new San Juan School design should include the design of a new campus heart that is a space that provides inclusive engagement and participation for the school learning community. Every aspect of the design of the new San Juan school should be evaluated through this lens: How does this design component serve to support, improve, or create a school community?
Design for Well-being
Create spaces that support student and educator wellness and well-being, that include traditional elements of the school's physical environment that address the fundamental needs of learners and their teachers.
Diversity of spaces
A new design should include a wide range of interior and outdoor spaces that support multiple ways to engage learners.
Create connections
Design a campus ecology where there is a greater degree of connectedness that promotes the development of the relationships necessary to create a school that works and learns together.
Create adaptive spaces
Create spaces that are flexible and agile and have the adaptive capacity for supporting a variety of instructional approaches, some of which are to be developed in the future.
Inclusive engagement
Create spaces that are capable of supporting a broader educational experience that includes art, music, physical education, and science. Create spaces that engender social, emotional, and cognitive engagement. Importantly, design for equity by providing every student with access to resources that they need to be successful.
Professional Work
Create a suite of spaces for support services and administration. This includes space for school leadership and administrative assistants, a counselor, a nurse, and others as defined by the school district.
David also presented some early ideas to inform our learning spaces including furniture and furnishings to lay the groundwork for future plans. We looked at and gave our reactions to a variety of photos of possible learning spaces. We learned the most from comments provided by our students who were in attendance. This should remind us that they are the most important voice to heed as we seize this opportunity to update the campus.
Measure M Improvements
This coming summer many projects funded by Measure M dollars will be occurring including: new boys and girls gym lockers, new scoreboard on football field and baseball diamond and new shot clock in gymnasium. More ceiling fans will be installed at San Juan School. Repaving of Aromas parking lot and solution for flooding of lot is also on the list. Our plans for air conditioning at Aromas and Anzar are continuing with designs under review by DSA (Department of School Architectures). We hope that air conditioning will be in place for the fall of 2024.
Tour of New Construction at Gilroy Unified
On May 24, a large number of teachers and staff traveled with administrators to tour two new middle schools in Gilroy that were recently built by our architect, AEDIS. We want teachers to get invested in the design process and to see what is possible as we move forward with projects. We know that our new school will serve our students and look like what we want and need, but it doesn't hurt to get ideas from others as sources of inspiration. We hope to visit some new elementary schools to see what spaces look like for younger grades, too.
Planning for Furniture Pilots
Next year, probably second semester, we will be setting up some classroom design labs for teachers to test out different types of furniture and furnishings. We have some reserve funds to begin upgrading our furniture and want this to be a thoughtful process. A chair or desk in a classroom may have a 30-50 year lifespan, so we want the decisions to be right! Some of our furniture is 40-50+ years old now and looks it!
These classroom design labs will allow teachers (and their students) to try out different styles and makes of furniture in different configurations. We will collect lots of data and reflections on what is working and what is not, so as to inform our purchases in the future. Students will have a lot to say about what is comfortable, flexible, and helps them learn. We are fortunate to continue working with consultant David Jakes in this process as he has helped many educational institutions with this process.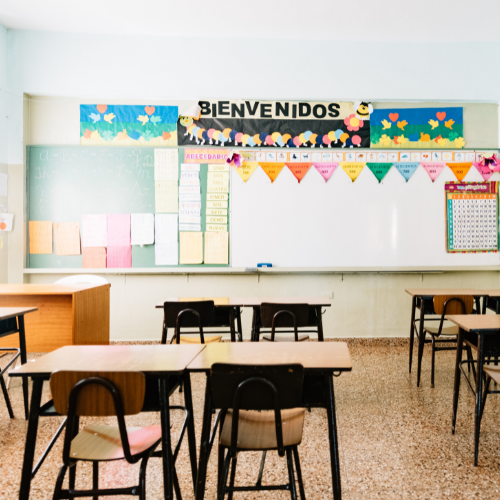 Focus on Math Countywide
The San Benito County Office of Education along with its partner districts has organized a countywide Math Collaborative as we strategically plan to address low math scores. This August, a cohort of K- 12 teachers from across the county will be brought together to make professional development plans to elevate our instruction in mathematics.
Celebrating Our Certificated and Classified Employees of the Year
On May 25th, we celebrated two employees from each site at a countywide reception held in Hollister. We are very proud of our staff nominated employees!
Anzar High School: Michael O'Connor Classified and Debra Miller Certificated

Aromas School: Brenda Temperino Classified and Wendy Gurnee Certificated

San Juan School School: Alicia Gonzalez Classified and Sara Perez Certificated

District Office: Anne Siri, Director of Human Resources.
Chronic Absenteeism
There is a high correlation between students being in class and student achievement scores. This is why one of the important indicators the state reviews is an individual district's attendance records. Post COVID, there have been increased challenges in this area for many districts and we are no exception. Yes, there are times when students truly are ill and need to stay home for their safety and ours, but there has been a long list of excuses that others have used to keep their children out of school. We need parents' help with this problem. On our end, we are working on making sure our reporting processes are accurate. But you should know that California's Department of Education defines Chronic Absenteeism as "when a student misses 10 percent or more of instructional days during the school year for any reason." That means even excused absences are counted as part of the 10%.
Please work with us to make sure your student is in attendance in school. We will be more active in the future about alerting you to attendance patterns for your son or daughter as we strive to remedy this problem.