BACK TO SCHOOL RESOURCE FAIR SUPPORTING FOSTER & HOMELESS YOUTH Friday, August 5, 2022 from 3:00 p.m. to 4:30 p.m. San Andreas High School Parking Lot 191 Alvarado Street, Holllister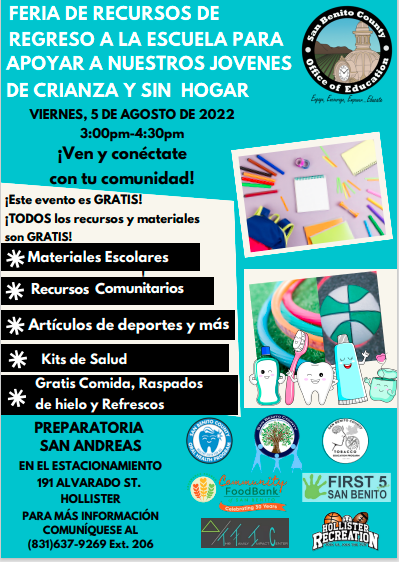 August 4, 2022 Dear 4th Grade Parents/Guardians: I hope this message finds you well. My name is Ethan Stocks. I am the new principal of San Juan School. As you may know, San Juan School has been steadily growing over the past few years. While we are very pleased that so many families have chosen to send their students to school here, this growth has created some unexpected challenges. I am writing to you because we have a growing number of 4th grade students this year, and we are seeking volunteers to consider attending Aromas School for the 2022-23 school year. If you are interested in learning more about this opportunity, please contact the San Juan School Office at 831-623-4538 and ask to speak with me. We appreciate your input and feedback as a partner as we work towards a positive solution for our students. Thank you. Sincerely, Ethan Stocks Principal, San Juan School

Please be advised that the Board of Trustees will be meeting at 5:30 p.m. on Thursday, August 4, 2022 for a Board Retreat at the District Office Annex. The agenda may be accessed at the following link:
https://5il.co/1f7v6

A Facilities Committee meeting will be held on Thursday, July 21, 2022 at 9:00 a.m. in the District Office Annex, 2300 San Juan Highway, San Juan Bautista, CA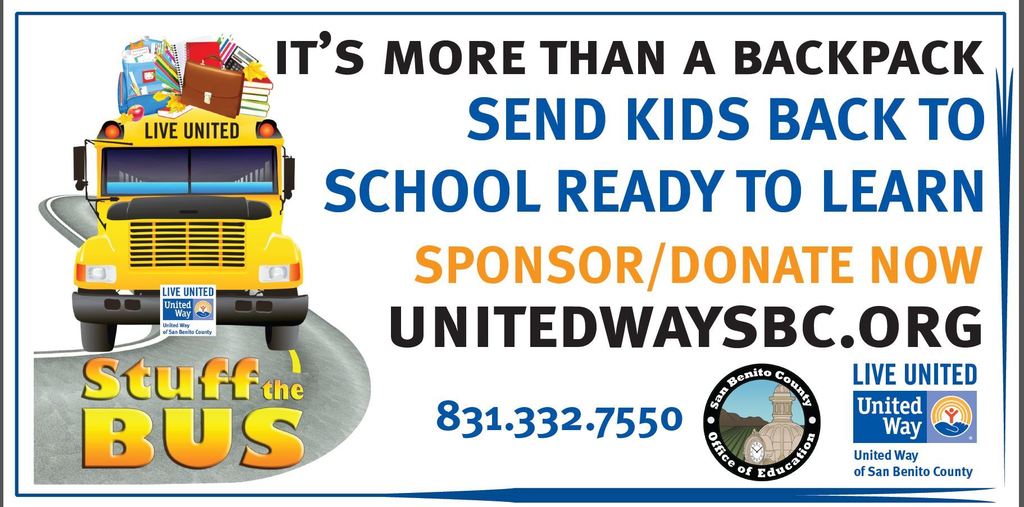 ASJUSD: CANCELLED BOARD MEETING The Special Board Meeting has been canceled for 6/17 and will be rescheduled at a later time. REUNIÓN DE LA JUNTA CANCELADA La reunión especial de la junta se canceló para el 17 de junio y se reprogramará para más adelante.
ASJUSD: The Board Meeting tonight has been canceled and has been rescheduled for Tuesday, June 28th with Open Session at 7pm.
If you have registered for the Fiesta Fun Run 2022, bib pick up will be on Friday, June 3, at San Juan School from 5-7:30 p.m. You can also register during this time. Bib pick up will also be available on the morning of the race beginning at 7:30 a.m. at the start line (in front of the San Juan School Soccer Field). Race start times are: 8:45 a.m. for the 1 Mile Fun Run & 9:15 a.m. for the 5K & 10K There is still time to register! Visit FiestaFunRun.org to register online. Online registration closes on June 3.
Cancellation – ASJUSD: The Special Board Meeting/Public Hearing for Wednesday, May 4, 2022, at 5:30 p.m. in the Anzar High School Library has been canceled. The Public Hearing has been rescheduled for Wednesday, May 11, 2022, at 6:00 p.m. in the Anzar High School Library.